Provide Safe Access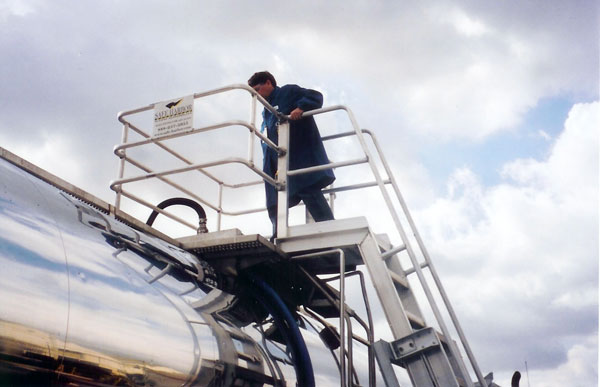 Your people  truly deserve safe access to bulk transfer areas and utilities.
Let us help your organization's productivity levels take off by improving the WORKSPACE that the skilled members of your team live in each day that they're on the job.

Product(ivity) Manager
Peerless Workspace
A single focus is what the Product Manager for Peerless Workspace has: Productivity. Each and every Peerless client has their own unique productivity goals that require a well trained professional's interpretation to insure that the absolute best return is achieved on your Workspace investment.
Contact Us for More Info
Back To Top
Having coined the phrase, "Improving Your Workspace" Nederman Inc. is recognized as the worldwide leader in capture at the source dust & fume extraction equipment for both heavy industrial applications as well as those found in lab/electronics environments.

Nederman Inc.'s full line of vehicle exhaust solutions places them at the forefront of industrial Indoor Air Quality solutions providers. They're especially well known for their Emergency Vehicle Systems and the MAGNATRACK system.

Alemite has achieved an international reputation as a leader in designing and manufacturing cost-effective lubrication and fluid handling systems.

Safe Harbor Access Systems is a preferred provider of world-class fall protection systems and customized safety solutions for bulk loading areas.
Durable metal reels of all types (hose, cable, storage) and for all industries. We build over 70,000 reels per year for customers throughout the world. Reel sizes vary from hand portable to over 12 feet in length.

World leaders in Lubrication Management Equipment. Machines break down and wear out, often before their time. It's just another cost of production for many manufacturers. But when they do, the real cost comes in the way of countless hours of downtime, ongoing repairs, decreased production and often weeks and weeks of lost revenue.
Back To Top
Case Study
Workers Complain of Odors
Nederman USA - During Fiber Optics manufacturing employees use an epoxy to connect different length of fiber cable. At a local Fiber Optics Cable Manufacturing workers were complaining about the strong odors created by this process. Another main concern was that the position of the fume arms proposed could not remain in a fixed position to work efficiently because the point at where the fumes would be generated would vary everyday.
Back To Top