Overview
Peerless has a wide variety of specialty pumps. Whether you're transferring chemicals, CIP solutions, beverages, pharmaceuticals, raw ingredients or lubricants we have a solution to fit your need.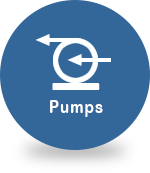 Product Manager
Pumping
Our product manager for pumps has made it his mission to limit Peerless' pump sales to those applications that can actually be improved upon. Whether safety, productivity or longevity is your issue, our product manager will leave the "features and benefits" pitch for someone else, while coming prepared to ask questions and learn about your needs.
Contact Us for More Information
Back To Top
Manufacturers
Our process equipment offers a variety of priming piston and air-operated double diaphragm pumps for low to high viscosity fluids and are built for years of reliable service.

STANDARD PUMP'S Barrel & Container Pumps & Flow Control Systems are commonly used through out the Food Processing, Cosmetics, Pharmaceutical, Bio-Tech, Chemical Processing, Waste Water Treatment, Plating, Medical, Semi-Conductor, Agriculture and Petroleum industries worldwide.

Banjo Corporation specializes in injection molding of glass reinforced polypropylene with an excellent reputation for high quality poly pumps.

Grease – Alemite Grease Pumps are designed to handle a wide range of applications, fluid viscosities and system pressures. Oil – Alemite Oil Pumps are ideal for applications where fluids are piped to multiple hose outlets, reels, metered outlets or portable service stations.
Back To Top
Case Study
Batch Control Provides Consistent, Dependable Results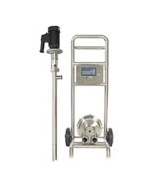 A Midwest meat packaging plant recently introduced a new product, which included one pork rib, 14 ounces of barbeque sauce and a small plastic bag. The challenge was to develop a system in which they could accurately dose the exact volume of sauce from the 55-gallon storage drums. In the beginning the company would place the rib in the bag and then have employees use a small ladle to scoop the sauce from the drum. The company was presented with several accuracy problems with bags containing various amounts of sauce. The inconsistency proved to be costly.
The Solution:
Standard Pump's Sanitary Batch-Control System (Conductive Solutions). The company mounted the Batch-Control System in 55-gallon drums of sauce and preset the volume for 14 ounces. As the bags passed under the discharge of the system the operator simply pressed the Enter key, which accurately delivered 14-ounce doses.
Back To Top