Overview
Valves & Actuation Steam Traps & Steam System
If you're looking for valves that isolate, switch or control fluid flow in a piping system, you're in the right place. Whether you're searching for valves that are operated manually with levers and gear operators or remotely with electric, pneumatic, electro-pneumatic, and electro-hydraulic powered actuators, we can assist you in making a selection that helps you to operate safely, efficiently, and reliably without excessive maintenance.
We supply process valves and control equipment to a wide range of Industries, including:
Gas Pipeline Industry
Coal Seam Gas
LNG
Petrochemical
Chemical
Power
Water and Waste Water
General Industries
From the ordinary, to the exotic, we can provide them all:
Carbon Steel
Cast Iron
Brass
Forged Steel
Stainless Steel (304, 316, 317L, 410)
Monel
Carpenter 20
Incolloy
Hastalloy
Super Duplex
Zeron
Inconel
Alloy 20
LF2
Plastic valves: Polypropylene, CPVC, PVDF, etc.
Not seeing what you need? We can, and will, source those one-off and hard to find items from our manufacturing partners to get you what you need with the best possible delivery time.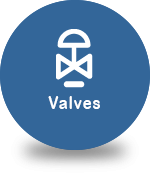 Product Manager
Valves & Steam Systems
Valves & Steam Traps must be properly selected to operate safely and efficiently. Our highly experienced Product Manager can help you to specify manually operated valves, typically used where operation is infrequent and/or a power source is not available, as well as powered actuated models, which allow valves to be remotely operated automatically by a control system.
If you're interested in improving the process quality, efficiency, safety or productivity of a valve or steam application, contact us today.
Contact Our Product Manager
Back To Top
Manufacturers
It is the Apollo name, and the quality and reliability that it stands for, that has won the confidence of our customers. Apollo manufactures actuators & controls, ball valves, butterfly valves, check valves, mixing valves, safety relief valves and pipeline strainers.

Ta Chen is a leading global provider of Stainless, Aluminum and Nickel Alloy products. Forms include Pipe, Fittings, Flanges, Ball Valves, Gates/Globes/Checks, Y-Strainers and much, much more. TCI is an industry leader in inventory depth, breadth and availability, and has created a state-of-the-art web tool that enables Peerless to quickly and accurately quote and deliver product.

Needle Hand Valves, Needle Valve Manifolds, Ball Valves, Instrument Accessories, Air Headers & Distribution Manifolds, Double Block & Bleed Valves, Injection & Sample Valves, Primary Isolation Valves.

Flanged Style Two-Piece Floating Ball Valves, Cartridge Style One-Piece Ball Valves, Flanged Style Three-Piece DBB Valves, Combination Valves, Level Gauge Valves, Vent Valves.
Smith is one of the oldest valve brands for API 602 forged steel valves in the industry today. Their product line consists of a broad range of gate, globe and check valves utilized in the oil and gas, refinery, petrochemical and many other industries throughout the world.

Milwaukee Valve Company has made a commitment to being the best, most responsive valve supplier in the industry. From concept, through engineering, manufacturing, installation and service, every valve reflects the Company's customer commitment.

Newmans manufactures gate, globe, check, and floating ball valves in a full range of materials, valve styles and pressure classes. Cast carbon steel and low-alloys, forged valves, marine valves, cast iron and ductile iron valves are manufactured under the NEWCO logo. Stainless steel, Alloy 20 and other exotic alloys are produced and marketed under the OIC trademark.

Bradford Manufactures stainless steel fittings and valves for the Food, Dairy, Beverage and Pharmaceutical equipment industries. We have CAD capabilities on specially fabricated parts, using our standard fittings.
Marwin Valve is a leading manufacturer of high quality, soft-seated ball valves and automated accessories. Marwin specializes in specialty-type ball valves including metal seated valves, cryogenic valves, control valves, and carbon-seated valves.

PK Valve manufactures valves including cryogenic, pressure seal bonnet, triple offset butterfly, motor operated, belted bonnet gate, stainless steel gate and parallel slide. Even more, everything from patterns to testing and packaging is done in-house.

The Sharpe Valve advantage is attributed to technical quality, service and support. With our extensive inventories, long lead times are often eliminated.

VNE Corporation is a leading manufacturer of stainless steel fittings, valves, and specialty related products, both for sanitary and industrial applications.
From the most common application to the most severe, Velan has a solution. Velan produces gate, globe, check, ball, butterfly, knife gate, and engineered severe service valves and steam traps in sizes up to 64" (1600 mm) and for services up to ASME Class 4500.

ABZ manufactures American made resilient seated butterfly valves along with quality import valves ranging from rubber seated valves to high performance valves. ABZ credits their success to quality products, competitive pricing and prompt deliveries.

OPW Fluid Transfer Group is comprised of seven market-leading operating companies - each dedicated to designing, manufacturing and distributing world class solutions that assist in the safe handling and transporting of hazardous bulk products.

SureFlow Equipment Our commitment to continually improve and diversify our comprehensive product line, while providing optimum customer service and satisfaction, will ensure we remain your "SINGLE SOURCE FOR VALVES AND STRAINERS".
Valtorc® International is a major supplier in the industrial control and actuated valves market worldwide supplying Ball Valves, Butterfly Valves, V-Port Ball Valves and many more American made products since 1980.

Systematic Controls Corporation is America's leader in electrical control units, offering: Level Switches, Temperature Control Units, pH Measurement and Controls, Industrial Valve Automation, Level and Pressure Transmitters.
Back To Top
Case Study
Trouble Shooting Butterfly Valve Saves Manufacturer Thousands

When one of Peerless' valve clients contacted their representative in the Rochester, NY area with a nagging butterfly valve issue, our rep & product manager teamed up to provide a lasting solution. After an initial valve survey, our product manager was able to specify a replacement valve that has lasted up to three time longer than the original installation. The savings this solution produced enabled our client to reallocate a sizable percentage of their annual maintenance budget.
Back To Top