Overview
Tube Fittings & Valves

DK-Lok fittings and valves are manufactured to the most stringent industry standards. As a result, DK-Lok is one of the most certified tube fitting and valve manufacturers in the world. Our guarantee is a leak-tight seal in process, power, and instrumentation applications. Our commitment is to provide our clients reliable products and unparalleled customer service. As your fittings and valve supplier, it's our responsibility to bring increased value to your company.
DK-Lok's staff is committed to providing you with unparalleled customer service. Through our quality valve and fitting products, customer service, and pricing DK-Lok is able to create a true value for you, our clients. DK-Lok Fittings and Valves looks forward to creating a solution for whatever need you may have.  Click For New Products >>>
Click For Online Catalog, CAD Drawings & Configurator Tools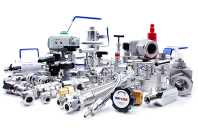 NEW DK-LOK Products
DK-LOK® CNG/NGV Products Condensed Catalog Download Now
DK-LOK® CNG/NGV Ball Valves & Filters
DK-LOK® CNG/NGV Check, Relief, Bleed & RCQ Valves
DK-LOK® Instrumentation Pipe & Weld Fittings
Clean Weld Fittings
Metal Gasket Face-Seal Fittings
V61 Series Vent Relief Valves Download Now
V61 Series Vent Relief Valves are designed to vent out the excess pressure from the line, automatically, to keep the required line pressure safely when the line pressure is exceeded over the limitation unusually. These valves can be used in the case that the working fluid is not harmful when vented out. The level of cracking pressure should be set by adjusting the force of the spring in the valve before this valve is installed in the system.
VD3 Series Diaphragm Valves Download Now
The diaphragm valve is used for shut-off, isolation in gas control systems, and analyzer sampling systems.The valve ensures positive and consistent shut-off with manual and offers a metal to metal seal to atmosphere for leak integrity with thin plate diaphragm.
VM 1D, 3D, 6D Series
V13W Series Bellows Valves Download Now
V13W series bellows offers the most difficult fluid handling applications. This design, with the secondary sealing system, fits to the need for a safe and reliable system.
Applications include cryogenic to high temperatures, high pressure to vacuum in power plants, instrumentation, panels, and critical sampling system for toxic, radioactive, and hazardous fluids.
DK-LOK Push-On Hose Fittings are designed for use with high-quality and low-pressure elastomeric compound hose such as textile braid reinforced synthetic rubber hose.
CP Series Hydraulic Condensate Pot Download Now
CP Series Hydraulic Condensate Pots are designed and configured in six layouts. Refer to POT Configuration.
DK-LOK® DO Series O-Ring Face Seal Fittings Download Now
Female Nut Blind Nut
Blind Nut
Glands Swivel Union
Dk-Lok Tube Fitting Connector
Tube Adapter Gland
Weld Tube Socket Weld Gland
Tube Socket Weld Reducing Gland
Male Tube Weld Gland
Automatic Tube Weld Gland
Glands Male Connector
Female Connector
Male SAE/MS Connector
Bodies Union
Bulkhead Union
Reducing Union
Elbow
Tee
Bodies Plugs
Dk-Lok Tube Fitting Connector
Dk-Lok Tube Fitting Bulkhead Connector
Dk-Lok Tube Fitting Elbow
Bodies Tube Socket Weld Connector
Automatic Tube Weld Connector
Male Connector
Bodies Female Connector
Male Elbow
Male SAE/MS Connector
Male SAE/MS Positionable Elbow
J Series Air Distribution Manifolds (Air Header) Download Now
J Series Air Distribution Manifolds are designed and configured in any layout to fit the application as per client's requirements.
Using cleaned and passivated parts, the hoses and end connection are welded. Every hose assembly of MFH & FH Series is factory tested using nitrogen or cleaned air @ 1000 psig (68 bar) at the room temperature, and individually packed in a plastic sealing bag with an external label. The hydrostatic test of 1.1 times the working pressure or helium leak test is optional.
VC34 Series CNG Check Valves Download Now
High Flow check valve.
Bar stock two piece study design.
Poppet O-ring secured on groove provides leak-tight seal.
Unidirectional flow control of fluids
Prevent loss of media caused by failed connections.
NGV Products – RCQ Series Receptacle Download Now
DK-LOK RCQ series receptacles fully comply with and are certified to the ANSI/AGA/CGA/NGV1 and ECE R110 standards for Compressed Natural Gas Vehicles (NGV) fueling connection devices.
DK-LOK RCQ series receptacle is designed for permanent mounting on a compressed natural gas vehicle (NGV).
DK-LOK RCQA receptacle utilizes the NGV 1 profile which allows complete interchangeability to any fueling nozzles conforming to the NGV 1 standard.
DQH Series High Flow Quick Coupler  Download Now
Standard SS316 and Carbon Steel construction
Standard Buna-N seal O-ring.
Body and Stem Ball-locking for positive connection.
Standard Double Valve (DV) on body and stem.
Interchangeable with other manufacturer's coupler.
DK-LOK® Ultra-Torr Vacuum Fittings  Download Now
Union
Reducing Union
Union Elbow
Union Tee
DQVP and GJ Series Quick Connects  Download Now
Maximum Working Pressure: 508 psig@100℉(35 bar@38℃)
Minimum Burst Pressure: 2,030 psig@100℉(140 bar@38℃)
Cracking Pressure: 87 psig@100℉(6 bar@38℃)
Body and connector are made of Stainless Steel 316L
Not seeing what you need? We can, and will, source those one-off and hard to find items from our manufacturing partners to get you what you need with the best possible delivery time.